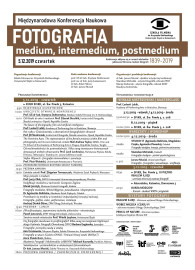 The conference PHOTOGRAPHY, medium, intermediate, postmedium took place in Katowice, Poland, on the premises of the Krzystof Kieslowski Film School on 3-6 December 2019.
The accompanying program was masterclass prof. Ľudovít Labík, on 3.4. and 6.12.2019 on the topic of the structure of the film work.
12/5/2019 prof. Ľudovít Labík also made a conference paper "The future of film, photography and artificial intelligence."
We invite you to the event at the International Conference of Sciences PHOTOGRAPHY medium, intermediate, post-medium.
https://zpaf.pl/aktualnosci/OD-realizm-iluzji-2019-katowice/
The issue expires on 5 December 2019. in hours 10:00 - 18:00 in the Film School im. Krzysztof Kieślowski University of Silesia in Katowice.