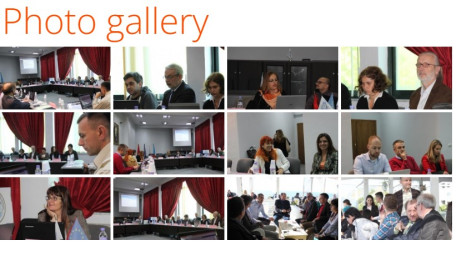 From 1.12.2013 FTF VŠMU participated in an international project with title: Development of higher education and society by creating a collaborative environment in the field of arts and media through  regional student partnership in production of audio/video content.
Project number: 544108-TEMPUS-1-2013-1-RS-TEMPUS-JPHES

Final assessment from Brussels.
http://www.studavp.net/userfiles/files/2015-Second%20Selection.pdf" target="_blank">Adam Kurta, Stanislav Pavlovič, later only Adam Kurta. 18 projects of various genres were created, including a film whose script was written by FTF student Adam Kurta of VŠMU. Prof. participated in one of the projects as a pedagogical mentor. Ľudovít Labík. The result is an international documentary film with an ecological plot supporting the issue of the coexistence of national minorities in contemporary Serbia. 
Main partner 1 (UA) University of Arts in Belgrade, Kosancicev Venac 29, 11000 Belgrade, Serbia
Project partners:
Project Partner 2 (UNS) University of Novi Sad, Trg Dositeja Obradovica 5, 21000 Novi Sad, Serbia
Project Partner 3 (VISER) School of Electrical Engineering and Computer Science App.Stud, Vojvode Stepe 283, 11000 Belgrade, Serbia
Project Partner 4 (UBL)University of Banja Luka, Bulevar Petra Bojovica 1a, 78000 Banja Luka, Bosnia and Herzegovina
Project Partner 5 (US) University of Sarajevo, Obala Kulina Bana br. 7/II, 71000 Sarajevo, Bosnia and Herzegovina
Project Partner 6 (UAMD) "Aleksander Moisiu" University of Durres, Lagja nr.1, Rruga e Currilave, 2000 Durres, Albania
Project Partner 7 (UT) University of Tirana, Square "Mother Teresa", PO Box, No.183, 1000 Tirana, Albania
Project Partner 8 (VSMU) University of Performing Arts in Bratislava, Ventúrska 3, 81301, Bratislava, Slovakia
Project Partner 9 (NATFA) National Academy for Theater & Film Arts "Krustyo Sarafov", Rakovsky street 108A,1000 Sofia, Bulgaria
Project Partner 10 (UL) University of Ljubljana, Kongresni trg 12, 1000 Ljubljana, Slovenia
Project Partner 11 (RTS) Radio Television of Serbia, Takovska 10, 11000 Belgrade, Serbia
Project Partner 12 (RTV) Radio Television of Vojvodina, Ignjata Pavlasa 3, 21000 Novi Sad, Serbia
Project Partner 13 (RTRS) Radio Television of Republic of Srpska,Trg Republike Srpske 9, 78000, Banja Luka, Bosnia and Herzegovina
Project Partner 14 (BHRT) Radio Television Bosnia and Herzegovina, Bulevar Mese Selimovica 12, 71000 Sarajevo, Bosnia and Herzegovina
Project Partner 15 (A1R) A1 Report Television,"Dervish Hima", Three Towers, 2nd Tower 2,1000, Tirana, Albania
Project Partner 16 (SAS) Student Association of Serbia, Svetomira Nikolajevica 5/16, 11000 Belgrade, Serbia 
The goal of the project is to support cooperation between partners in the Balkan region, while other schools from the EU, similarly to ours, act in the role of "trainer" and supervisor. On behalf of our school, doc. Mgr. Anton Szomolányi, ArtD.,  prof. Ľudovít Labík, prof. Jozef Hardoš, Mgr. Gyárfás Matej, ArtD. and Mgr. Jana Keeble.
9. meeting 9th Consortium meeting in Novi Sad, Serbia, Study visit to NuBoyana film studio in Sofia.< /a>

8. meeting 8th Consortium meeting in Tirana (AL)

Serbian RTS TV broadcast a 26-minute documentary about the meeting of participating schools in Sarajevo a documentary film in which prof. expressed his opinions about the project. Ľudovít Labík, as well as the author of the realized scenario, Bc. Adam Kurta. 
7. meeting 7th Consortium meeting in Sarajevo (BH )
5. meeting 5th SC and QCB meeting in Banja Luka (BH)
4th meeting 4th SC and QCB meeting in Bratislava
3rd meeting 3rd SC and QCB meeting in Durres
2nd meeting 2nd SC and QCB meeting in Ljubljana
1st meeting Monitoring visit to partners from Belgrade
---
Student works - Open Call 2015
Short feature films:
VELVET SCYSCRAPER, screenwriter/director: Ana Krstić,   

REWIND, screenwriter: Borko Mitrović, director: Ana Trebše,

FERRIS WHEEL, screenwriter: Adam Kurta, director: Duško Stanivuk,

METAMORPHOSIS, screenwriter: Lejla Muratčauš, director: Siniša Galić,

BOSNIAN DREAM, screenwriter: Damir Bošnjak, director: Amar Spahić,

BARBARA, screenwriter/director: Jelena Nenadov,
TV SitCom:
   7.  SUMMER FUN AT HOME, screenwriter: Vasja Stanković, director: Ana Stanarević
Documentary and experimental movies:
MEMORIES OF WALLS, screenwriter/director: Nevena Tomić,

TURNING POINT, screenwriter: Jovana Đurić, director: Jelena Radenović,

SEPARATION OF THE GREEN, screenwriter/director: Aljoša Dakić,

SERBIAN FOLK STORY, screenwriter: Nikolina Despot, Miloš Mutapčić, director: Milena Grujić

THE STORY OF THE BAND EVA BRAUN, screenwriter/director: Robert Bukarica

WITHOUT MAKE-UP, screenwriter: Julijana Vincan, director: Stefan Krasić,

EU MEANS PEACE, screenwriter: Floralba Sulce, director: Nikolina Šušak,

EU SO NEAR AND YET SO FAR, screenwriter: Gerta Kapllani, director: Nikolina Šušak,

MY DREAM IS ALBANIA, screenwriter: Ervin Kurti, director: Milica Pendić.
Audio works:
THE ISLAND, screenwriter/director: Duška Bajić,

THE VOICE INSIDE OF OUR HEAD, screenwriter/director: Franka Dervishi,
Student works - Open Call 2014
Short feature films:
 Documentary movie:
 LIFE IS NOTHING BUT A BEAT, director and screenwriter: Stela Meta

 YOU'VE GOT MAIL. director and screenwriter: Tamara Milovanović
Additional mid-length feature movie:
ABDUL AND HAMZA, director and screenwriter: Marko Grba Singh