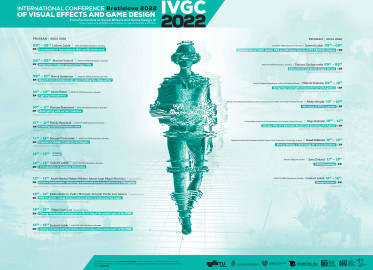 IVGC Bratislava 2022 - Transformations of visual effects III
IVGC is an international conference organized by the Film and Television Faculty of the Academy of Performing Arts in April, lasting 2 days. It takes place in person or remotely via a video conferencing connection with the MS Teams program.
This year, the IVGC will take place on April 28-29, 2022.
It is intended primarily for students of VFX and GD study programs operating in Europe, but also for external amateur or professional applicants in domestic and international contexts. The language of communication is mainly English.
The task is to acquaint the participants, create preconditions for future cooperation and inform not only the participants, but also any interested parties about the current level of VFX and GD in the European area.
The conference is supported by a KEGA grant Slovakia.
The presentations are recorded directly on the presenter's computer (the open source program OBS, mp4 is recommended), the recording is realized in the TEAMS program and the conference is also streamed live on the You Tube channel.
Following the editing, the individual contributions are shared via the WEB page www.avfx.sk , www.ahd.avfx.sk and via the websites of the participating foreign schools. Presentations are available to the general professional public.
Attached to the conference is the implementation of the electronic written document Proceedings of the IVGC, which is a written visual capture of the individual presentations of both conference days. The Proceedings also include papers that were not presented at video conferencing presentations, but are an important look at the professional pedagogical environment of VFX and GD.
28.4.2022
Live streaming: https://www.youtube.com/watch?v=lhdR4RqPwkQ
Presentations of master's students (Department of VFX, FTF VŠMU, Bratislava, Slovakia):
Marián Valovič: Integration of digital matte painting in film
Exploring creative process and workflow for creating a shot with help of matte painting.

Maroš Seidman: Spend 5 more minutes on set = go on holiday few days earlier
Methods of gathering data on filming locatrion, recreating surfaceces into texture sets for use in 3D rendering, 3D scanning techniques for easier postproduction workflow.

Kevin Šimko: Lighting atmospheres
Technology and creation parts of lighting atmospheres on film set and multipass compositing.
Martina Štammová: Retargeting with correct rotations
Understanding the retargeting to FK and IK controllers, euler rotations, rotation order, gimbal lock and quaternions.
Patrik Maryniak: Grade-Differently
The MasterClass ,,GradeDifferently,, aims to bring different new color grade solutions to the Audience. We will introduce great new tools available in modern grading software as well as the ways of film footage preparation. World is changing, time for us to change too.
Samuel Púchovský: Creation of shaders inside Unreal Engine
Process analysis on how to approach creation of shaders inside realtime engine.
Presentations by Portuguese students (Lusófona, Portugal):
André Santos, Nelson Milheiro, Afonso Lage, Miguel Martinho: Culture Gamification - Balancing traditional accuracy with fun in a Videogame
In this pitch we talk about the portuguese cultural game we're currently working on, "Xisto", and how we've gone about adapting the traditional "Corrida do Entrudo" of Lousã's Schist Villages into a videogame.
Pedro Bezerra, Pedro Marques, Gonçalo Verde, Luiz Santos: VFX for games - using shaders and particles to create powerful magic
In this presentation, we will introduce our game Runewatch, and how we use procedural generation and modularity to increase replayability with a small team. Further on, we will explore the process of creation of the many visual effects used to create the magic in the game, while breaking down some of the most important shaders, particle systems and techniques. At last, we will demonstrate how it all fits together with a bit of gameplay.
29.4.2022
Live streaming: https://youtu.be/DSxbJp36LGM
Professionals VFX and GD presenting their discoveries on the 2nd day of the conference:
Tatiana Zacharovská (Slovakia): Educational and Social Impact Games
While video games are generally seen as a medium designed primarily for entertainment and aesthetic appreciation, the constantly growing branch of educational and social impact games aims to facilitate educational purposes and raise awareness on a number of issues ranging from ecology to social inequality and mental health.
What are the current approaches to designing games for education, awareness and empathy, and what could be their place in the education of future game designers.
Bio: Department of Game design, Film and Television faculty VŠMU, Bratislava. Mgr.art. Tatiana Zacharovská studied sculpture and industrial design at the Academy of Fine Art and Design in Bratislava. During almost 20 years of video games development for several Slovak studios, she has created 2D and 3D graphics, art direction and game design. She is currently focused on developing educational games.

Mikhail Fiadotau (Estonia): Designing meaningful choices for narrative games
Any videogame can be described as a series of player choices. Some of these choices affect the balance of game resources. Other choices help players customize their experience and express themselves. Yet other choices allow players to shape the story of the game, enabling them to influence the events that transpire over the course of the playthrough.
Creating the latter kind—narrative choices—in a way that both makes sense to the player and is in harmony with the game mechanics is a challenge for game designers and narrative designers. In fact, not any story-driven game requires narrative choices at all: The Last of Us, Shadow of the Tomb Raider, and Half-Life: Alyx are all examples of narrative-heavy games that are based on a linear story, which the player works to unlock bit by bit without being able to affect the plot. But when the player is afforded an opportunity to shape the story through interesting choices, it can highlight their sense of agency and make for a powerful, engaging experience.
In this talk, I will discuss what makes for a meaningful narrative choice and what pitfalls may await a designer who wants to use narrative choices in their game. To keep the focus on choices in their pure form, I will zoom in on an old genre where narrative choices are the primary game mechanic: gamebooks, or Choose Your Own Adventure games. I will introduce a series of examples illustrating different approaches to narrative choice design in such games and then discuss how similar approaches have been used in modern AAA and indie games such as Life Is Strange, Oxenfree, Undertale, and others.
Bio: Mikhail Fiadotau is a lecturer in the School of Digital Technologies at Tallinn University, Estonia, where he mainly teaches in the Digital Learning Games MSc program. His published research focuses on independent videogame creation, game preservation, and the cultural history of gaming. He has also worked on several European and national-funded projects relating to educational games and game-based learning, and makes short indie games in his free time.
https://www.tlu.ee/en/node/106568
Alesja Serada (Finland): The value of NFTs in games
In this paper, I summarize the recent research on the value of NFTs in games. According to blockchain adopters, digital games provide use value to NFTs and other crypto tokens, and I argue that it may have been true to some extent in the case of Ethereum in 2017-2020. However, it is crucially important to newcomers to realize that actual practices of trading NFTs are far removed from what is stated in their white papers and press releases. Researchers, in their turn, reveal mostly speculative nature of NFTs in quantitative studies, which points at exchange value as the primary factor of their price. As an example, the rise and the fall of the game Axie Infinity has demonstrated critical discrepancies between exchange value, use value, and the value derived from labour. In game studies, such conflicts have already been observed in the studies of virtual economies of massively multiplayer games; such studies of early MMOs may help to design more rewarding experiences in 'metaverse' and enable fairer exchange of value.
Bio: Alesha Serada is a PhD student and a researcher at the School of Marketing and Communication at the University of Vaasa, Finland. Their dissertation, supported by the Nissi Foundation, discusses construction of value in games and art on blockchain.
Grant-Funded Researcher, MA in Sociology, Specialist's Diploma in Oriental Philology, School of Marketing and Communication, Communication Studies.
https://www.uwasa.fi/en/person/2170288
Diogo Andrade (Portugal): Oooops: Tale of a Gamedev Studio and Anatomy of a Failure
In this presentation we will talk about Spellcaster Studios, one of the first game development studios in Portugal, from its humble beginnings until its closure. I will highlight some of the valuable lessons I learned along the way as a founder, Creative and Technology Director and programmer. Failure might be painful, but the best lessons come from it!
Bio: Graduated in Computer Engineering (IT programming major and computer graphics specialization) in 2000, at Instituto Superior Técnico (Lisboa). The last two years of my degree were also occupied with various professional and R&D work in several companies. He cofounded two companies: Spellcaster Studios which was related to game development, realtime 3d software and geospatial applications, and Widecast Technologies, which developed Digital TV software and PSI/SI spoolers. After 5 years of working for Divitel B.V., a systems integrator based in the Netherlands, working as Chief Software Architect and implementation engineer for all the software-related products, he got back into game development by joining the team at B5 Studios / Biodroid Pocket Studio as a contractor for several projects. Currently, he´s working at Fun Punch Games, where we released "Striker's Edge" in early 2018 (a multiplayer arena battle game for PC and PS4), besides teaching game development at both Universidade Lusófona and World Academy. He also kept creating and developing several small indie games as a hobby.
https://www.linkedin.com/in/diogogomesandrade/?originalSubdomain=pt
Saeed Safikhani (Austria): Virtual Reality: a technology for every discipline
Highlighting some valuable lessons that have been found along the way as a founder, creative and technology director and programmer.
Bio: Saeed Safikhani is a Ph.D. candidate at Graz University of Technology (TUG). Currently, he is working as a researcher on user experience in VR and as a technical artist in the VR Giants game (a co-op VR game). He specialized in 3D visualization, modeling, texturing, and game asset creation. 
Sava Živković (Serbia): CGI Filmmaking
Previz is one of the most crucial aspects of CGI filmmaking, and In this talk we'll focus on the many different previz processes I've explored throughout my career, and how the process has changed with new technology.
Bio: Sava Zivkovic is a Director based in Belgrade, Serbia, mostly working in the field of CG Animation. He works as a director at Axis Studios and Hydra Studios, where he focuses on bringing AAA game cinematics to life. In his free time he directs and produces his own personal short films, like IFCC, FREIGHT, Playgrounds and most recently Irradiation.
https://vimeo.com/savazivkovic
Ludovít Labik (Slovakia): Conference organization
Bio: Department of VFX and GD FTF VSMU, Bratislava, Slovakia. He teaches film language at film schools in Slovakia for 35 years and at film schools Czech Republic for 13 years. He is focusing on storytelling, visual effects and game design. Initiator of new studying programs of Visual Effects (2011) and Game Design (2020) at FTF VSMU Bratislava, SR. Project leader of project TOP TEAM VFX 2015, Slovakia, member of project International European grant TEMPUS 2014, (7 universities mostly from Balkan), member of project GLOBAL RIVERS PROJECT 2008 (7 universities all over the world), Organization of 16 years of FILM SUMMER SCHOOL and 9 years of workshops/conferences WORKSHOP VFX. Author of 5 publications, the most important is DRAMATURGY OF EDITING, 2013, CR.
IVGC 2022

2022 Medzinárodná konferencia VFX and HD Bratislava SK verzia
2022 International Conference VFX and GD Bratislava EN version

2022 1.deň Medzinárodnej konferencia VFX a HD Bratislava SK verzia
2022 1st day of the International Conference VFX and GD Bratislava EN version

2022 2.deň Mezinárodnej konferencie VFX a HD Bratislava SK verzia
2022 2nd day of the International Conference VFX and GD Bratislava EN version
IVGC 2021

2021 Medzinárodná konferencia VFX and HD Bratislava SK verzia
2021 International Conference VFX and GD Bratislava EN version

2021 1.deň Medzinárodnej konferencia VFX a HD Bratislava SK verzia
2021 1st day of the International Conference VFX and GD Bratislava EN version

2021 2.deň Mezinárodnej konferencie VFX a HD Bratislava SK verzia
2021 2nd day of the International Conference VFX and GD Bratislava EN version