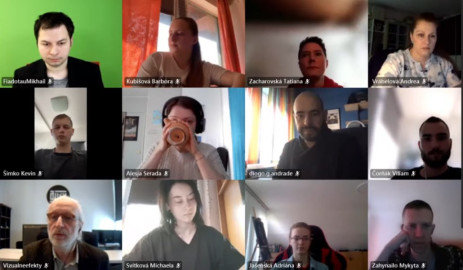 IVGC Bratislava 2022, Day 2
IVGC is an international conference organized by the Film and Television Faculty of VŠMU every year in April, lasting 1-2 days. It takes place face-to-face or remotely via a video conference link using the MS Teams program.
During the 1st day of the conference on 28/04/2022 IVGC 2022 contributions were heard from the following contributors:
Live streaming: https://youtu.be/DSxbJp36LGM
Professionals presenting their topics on the 2nd day of the conference:
Tatiana Zacharovská (Slovakia): Educational games and games with social impact
While video games are generally seen as a medium for entertainment and aesthetic experience, the ever-growing industry of educational and social impact games seeks to facilitate education and raise awareness of a range of issues from ecology to social inequalities and mental health.
What are the current trends in the approach to game design for education, awareness and empathy and what could be their place in the education of future game designers.

Mikhail Fiadotau (Estonia): Designing meaningful options for narrative games
Any video game can be described as a series of player choices. Some of these options affect the balance of game resources. Additional options help players customize their experience and express themselves. Other options allow players to shape the story of the game and allow them to influence the events that happen during the game.
Creating the second kind—narrative choices—in a way that makes sense to the player and is consistent with game mechanics is a challenge for game designers and narrative designers. In fact, no narrative game requires narrative options at all: The Last of Us, Shadow of the Tomb Raider, and Half-Life: Alyx are examples of narrative-intensive games that are based on a linear story. the player works on unlocking piece by piece without being able to influence the plot. However, when the player is given the opportunity to shape the story with interesting choices, it can emphasize their sense of agency and create a powerful and engaging experience.
In this talk I will discuss what makes a meaningful narrative choice and what pitfalls can await a designer who wants to use narrative choice in their game. To focus on choices in their purest form, I'll zoom in on an old genre where narrative options are the primary game mechanic: gamebooks or Choose Your Own Adventure games. I will present a series of examples illustrating different approaches to narrative choice design in such games, and then discuss how similar approaches have been used in modern AAA and indie games such as Life Is Strange, Oxenfree, Undertale, and others.

Alesja Serada (Finland): The Value of NFTs in Games
In the presentation, I summarize recent research on the value of NFTs in games. According to blockchain adopters, digital games provide utility value to NFTs and other crypto-tokens, and I would argue that this is somewhat true for Ethereum in 2017-2020. However, it is extremely important for newcomers to realize that the actual trading practices of NFTs are far from what is stated in their white papers and press releases. In turn, researchers reveal the mostly speculative nature of NFTs in quantitative studies that point to exchange value as the primary factor in their price. For example, the rise and fall of Axie Infinity showed the critical differences between exchange value, use value, and labor-derived value. In game studies, such conflicts have already been observed in studies of the virtual economies of massively multiplayer games; such studies of early MMOs can help design more valuable experiences in the "metaverse" and enable a fairer exchange of value.
Diogo Andrade (Portugal): Oooops: The Gamedev Story and the Anatomy of Failure
Some valuable findings gained on the journey of the founder, creative and technological director and programmer will be highlighted.
Failure can be painful, but it is the best lesson learned from it!

Saeed Safikhani (Austria): Virtual reality: technology for every field
Highlighting some of the valuable lessons learned along the way as a founder, creative and technology director, and programmer.

Sava Živković (Serbia): CGI film post-production
Preview is one of the most important aspects of CGI filmmaking. In this presentation we will focus on the many different dressing processes I have explored throughout my career and how the process has changed with new technology.
IVGC 2022

Medzinárodná konferencia VFX and HD Bratislava 2022 SK version
International Conference VFX and GD Bratislava 2022 EN version

1 deň Medzinárodnej konferencia VFX a HD Bratislava 2022 SK version​​​​​​​
1st day of the International Conference VFX and GD Bratislava 2022 EN version​​​​​​​

2 deň Mezinárodnej konferencie VFX a HD Bratislava 2021 SK version​​​​​​​
2nd day of the International Conference VFX and GD Bratislava 2022 EN version
IVGC 2021

Medzinárodná konferencia VFX and HD Bratislava 2021 SK version​​​​​​​
International Conference VFX and GD Bratislava 2021 EN version​​​​​​​

1 deň Medzinárodnej konferencia VFX a HD Bratislava 2021 SK version​​​​​​​
1st day of the International Conference VFX and GD Bratislava 2021 EN version​​​​​​​

2 deň Mezinárodnej konferencie VFX a HD Bratislava 2021 SK version​​​​​​​
2nd day of the International Conference VFX and GD Bratislava 2021 EN version