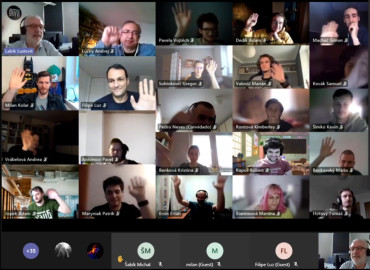 The 2nd day of the International Conference VFX and HD had the following agenda items with contributions:

1. Ľudovít Labik: Presentation of FTF VŠMU and conference organizing Studio VFX and HD FTF VSMU Bratislava, Slovakia.
2. Filipe Costa Luz: Media editing: Transfer from a stereoscopic instrument in XIX. century into a VFX composition.
3. Silvester Buček: Ludonarative games: Between game and story.
4. Daniel Kazankov: How to popularize Bratislava through gamification?
5. Ersin Ertan: Technologies of artistic visualization of music in the era of video games.
6. Carlos Almeida: VFX Breakdown.
7. João Real: New-traditional digital, visual-effect and animated works.
8. Milan Kolar: Development of Open-Source pipeline with professional support.
9. Ľudovít Labik: Closing remarks and evaluation of IVGC Bratislava 2021.

The conference and the creation of the Proceedings of the conference were also financially supported by the Audiovisual Fund Slovakia.

Medzinárodná konferencia VFX a HD Bratislava 2021
International Conference VFX and GD Bratislava 2021

1. deň Medzinárodnej konferencie VFX a HD Bratislava 2021
1st day of the International Conference VFX and GD Bratislava 2021

2. deň Medzinárodnej konferencie VFX a HD Bratislava 2021
2nd day of the International Conference VFX and GD Bratislava 2021
Bio:
Ludovít Labik Department of VFX and GD FTF VSMU, Bratislava, Slovakia. He teaches film language at film schools in Slovakia for 34 years and at film schools Czech Republic for 12 years. He is focusing on storytelling, visual effects and game design. Initiator of new studying programs of Visual Effects (2011) and Game Design (2020) at FTF VSMU Bratislava, SR. Project leader of project TOP TEAM VFX 2015, Slovakia, member of project International European grant TEMPUS 2014, (7 universities mostly from Balkan), member of project GLOBAL RIVERS PROJECT 2008 (7 universities all over the world), Organization of 15 years of FILM SUMMER SCHOOL and 8 years of workshops/conferences WORKSHOP VFX. Author of 5 publications, the most important is DRAMATURGY OF EDITING, 2013, CR.
https://www.avfx.sk/pedagog/ludovit-labik-prof-mgr-artd
Filipe Costa Luz Film and Media Arts Department, Lusófona, Portugal. He coordinates Videogames Ba and is vice-chair of Communication Design Ba at University Lusófona. He lectures digital post-production for film, television, games and animation and also does research activities in projects of communication science, Design and arts. His work at Hei-Lab (Digital Human-Environment Interaction Lab) and MovLab (Laboratory of Interactions and Interfaces), where he integrates technologies such as Motion Capture, Animation, Virtual reality or Stereoscopic Photography, it's an example of the cross-media projects that evolve him in academic or professional work for the entertainment, design or communication area.
https://www.ulusofona.pt/docentes/filipe-soares-branco-da-costa-luz
Silvester Buček University MUNI, Brno, Czech republic, University CM, Trnava, Slovakia, FTF VSMU Bratislava, Slovakia. He specializes in the history of game design, game ontology and semantics of game means of expression. In addition, it is dedicated to the popularization of games as a tool of education through the association Vĺčatá.sk. He is also the author of several educational games.
https://ahd.avfx.sk/pedagog/silvester-bucek-mgr
Daniel Kazankov Film director (27), Slovakia. He is a graduate of the Film and Television Faculty of the Academy of Performing Arts in Bratislava, Slovakia where he received his master's degree in film directing. During his studies he completed the Erasmus internship at the European Theatre and Film Institute in Brussels as an assistant director and screenwriting team member. The main focus of the internship was the verbatim technique. Verbatim theatre is a form of documentary theatre which is based on the spoken words of real people. In 2021 he will continue his studies as a student of a recently introduced game design department at Academy of Performing Arts in Bratislava. His current focus is on development of psychedelic 2D co-op platformer game Lost in Self that should educate players on the negative impacts and risks of unknown drug consumption.
Ersin Ertan Msc. PhD. Candidate, University UTB Zlin, Czech Republic, Home country: Turkey Ersin Ertan was born in 1984, Turkey. He finished his bachelor degree in graphic design. He is currently holding a master degree in interior design Turkey and he will soon get his Ph.D. degree in animation from The University of Tomas Bata in Czech republic with the doctoral thesis that is based on music visualization arts. Moreover, he has been to Denmark, Germany and Slovakia as an exchange student in communication and video game arts departments during his master studies in 2015-16. He worked as a computer graphics arts instructor with the title of Autodesk Certified Instructor in Authorized Autodesk and Adobe training centers in Turkey for over a decade. In 2017, he was accepted in The University of Tomas Bata and during his research he also gave lectures on animation, visual effects, music visualization, video game art design and figure drawing.
Carlos Almeida Irmã Lúcia VFX / University Lusófona, Portugal. Teacher in the Digital Animation degree in Universidade Lusófona with a dedicated focus in 3D modelling, rigging and animation, using the creative processes of 3D animation and also combining them with motion capture produtivity processes. He is one of the founders of IrmaLucia Visual Effects, a company sited in Lisbon with a strong post-production portfolio in Film, Television and Commercials.
http://www.irmalucia.com/
João Miguel Real EasyLab / University Lusófona, Portugal. He graduated in arts (illustration and animation) and became professional. Over the years, he collaborated with several animation studios and producers as 3Dcities, Mylko, Bang Bang Animation or Showoff. He was responsible for the technological area of the animation studio Sardinha em Lata, for the last four years. And was part of the production teams of four short animated films awarded national and internationally. He is also an animation professor at Universidade Lusófona. Nowadays, he works at the production company Take It Easy as an animation director and composer of animated short films in 3D format, Stopmotion, traditional and digital animation.
Milan Kolar VFX technical director and supervisor with 10 years of production experience. Graduate of Bachelor of the Arts Computer Animation course at University of Glamorgan, England with Honours and Master of Arts in Digital Effects at Bournemouth University with Distinction. He started in the industry as a cg generalist on Kids TV shows while finishing his studies. Stayed in the United Kinkdom for 6 years within multiple studios ranging in size from 10 to 100 people, where he worked as character animator, rigger, lighter, lighting Technical director, FX Technical director and a pipeline Technical director.